We conducted an in-depth risk management maturity benchmark study across a 2 year period involving more than 150 mid to large size businesses in the UK. The methodology involved remote responses, and then detailed interviews with senior leadership teams. 25% of participants had already invested in risk management software. The remainder were mainly dependent on risk register spreadsheets, despite recognising this approach as sub-optimal. 
Those who hadn't purchased risk software were concerned about opaque pricing, and found the marketplace overcrowded and confusing. 
Upon further investigation, we identified more than 600 vendors on risk management software comparison sites such as Capterra, Sourceforge and G2. Even using filters to help narrow this field, it is still difficult and frustrating to identify key considerations such as pricing. This leaves consumers with the task of organising a number of time consuming demos, where inevitably the environment can be more sales than technically focused.
Using our understanding of these pain points, we set about identifying the risk management software companies who have transparent pricing. Whilst we appreciate that individual circumstances and needs will influence the buying process, pricing is almost always cited as a critical element.
If this is the case for you, then you're at the right place to demystify and simplify the search for the best risk management software tool for your organisation.
Whether your needs relate to ERM, EHS, GRC, Cyber Security, or even Investment risk, this article has you covered!
Best Risk Management Software Companies – Our Selection Criteria' from 2023
Here's what we looked for when evaluating the best risk management software companies in 2023:
Pricing transparency

Easy to understand pricing model including user numbers*

Availability of a free trial

Functionality 

User interface/ease of use

Support

Ease of implementation/roll-out

Value for money
*pricing shown was correct at the time of publishing and may be subject to VAT or local taxes at the prevailing rate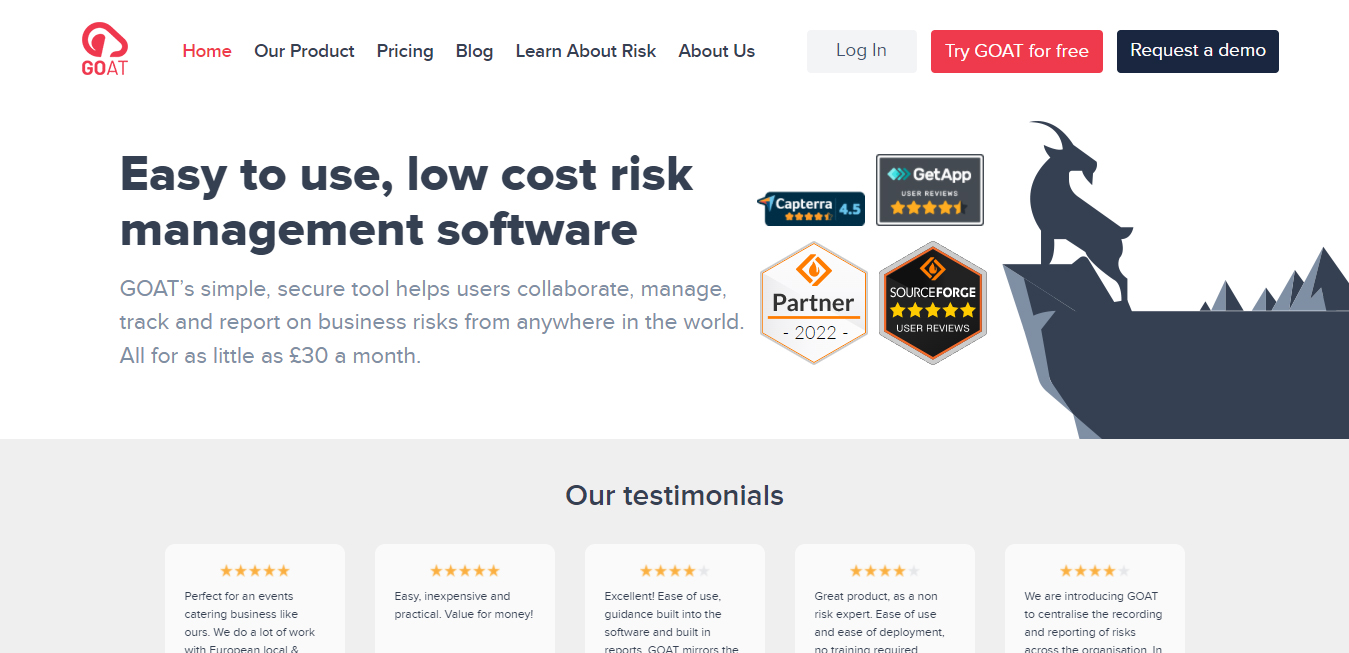 Starter – £30 /mo (5 users, 1 profile)
Standard – £90 /mo (10 users, 5 profiles)
Enterprise – £360 /mo (30 users, unlimited profiles)
Additional users priced on demand with unlimited available
Enterprise Risk Management, Risk
Free 30 day trial, Demo on request
Cloud, SaaS, Web-based
GOAT Risk™ is a simple, low cost Enterprise Risk Management software solution packed with all the tools you need to manage risk effectively. It includes a fun to use 'drag and drop' risk assessment function meaning you can spend less time scoring risks and more time actually managing them.
Users can track, collaborate and report on risk from anywhere in the world. There's sensible, transparent pricing, and the system is suitable for businesses of all shapes and sizes. There's a free 30-day trial available (no credit card required). The free trial provides full system functionality including the ability to invite other colleagues to become users.
Demonstrations are also offered and can be booked on the easy to navigate website. Monthly rolling commitments are from as low as £30. If you're looking for something straightforward that does what it says on the tin, then GOAT Risk™ could be for you. For cases where the 'out of the box' solution doesn't meet your exact requirements, GOAT offers custom development and a range of onboarding support services.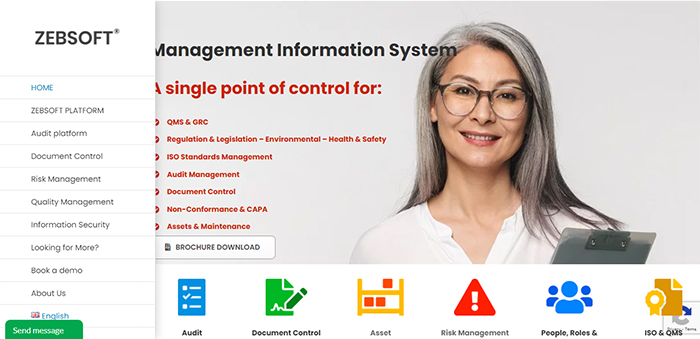 Standard – £100 /mo (10 full users)
Enterprise – Minimum 5 users (£40 /mo Enterprise users & £5 /mo Basic users)
Additional system provision costs apply
Modules to cover ISO14001, 45001, 22301 & 27001 are charged at an additional £50 /mo
Risk, Audit
Demo on request
Cloud, SaaS, Web-based
ZEBSOFT is a cloud based management information system providing a single point of control for risk management, audit management, document control, asset management & maintenance and ISO certification (ZEBSOFT has ISO9001, ISO14001, ISO45001, ISO22301 & ISO27001 structured controls built in as standard).
It's so simple to use and set up, ZEBSOFT even provides a "rapid deployment guarantee" promising basic functionality within 24 hours of your confirmed order. Whilst there isn't a free trial on offer, ZEBSOFT is keen to offer demonstrations (which can be booked online) and provides assurance that the team delivering these are not salespeople. Standard users can migrate seamlessly to Enterprise when the time is right.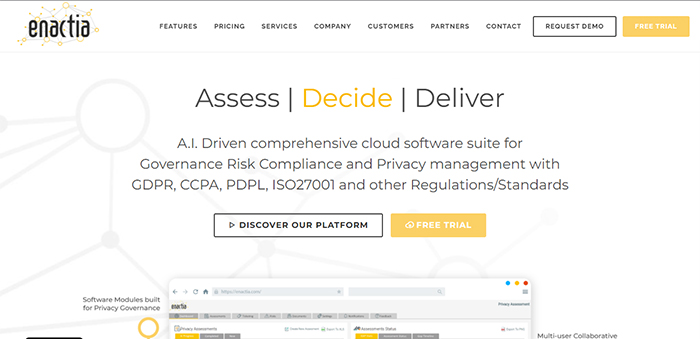 Small Business – €450 /mo (5 Users – full functionality)
Medium Business – €950 /mo (20 Users – full functionality)
Large Business – €1950 /mo (50 Users – full functionality)
Enterprise – €3950 /mo (200 Users – full functionality)
Annual 12 months for price of 10 offered on all subscriptions
Cybersecurity
Free 15 day trial, Demo on request
Cloud, SaaS, Web-based
Enactia is a compliance and A.I. risk analysis cloud platform, specifically designed for privacy and cybersecurity management needs. The platform comprises of various interconnected modules aimed at assisting the Data Protection Officer (DPO) or Chief Information Security Officer (CISO) with standard operations and collaborating with other company departments to collect information for completing privacy related tasks. The platform is available as an online subscription product and on-premise solution.
Enactia's comprehensive software suite facilitates governance risk compliance and privacy management with GDPR, CCPA, PDPL, ISO27001 and other regulations and standards.
More than 9000 hours of research and development has been invested to build the following core solutions: 1. Compliance assessments. 2. Records of processing activities. 3. Data protection impact assessments. 4. Data breach management & incident registry. 5. Vendor/third-party management. 6. Data subject/consumer requests management. 7. Ticketing & task management. 8. Integrated risk registry. 9. Document repository.
A 15 day trial of the full system is available on the website. A system demonstration can also be booked online.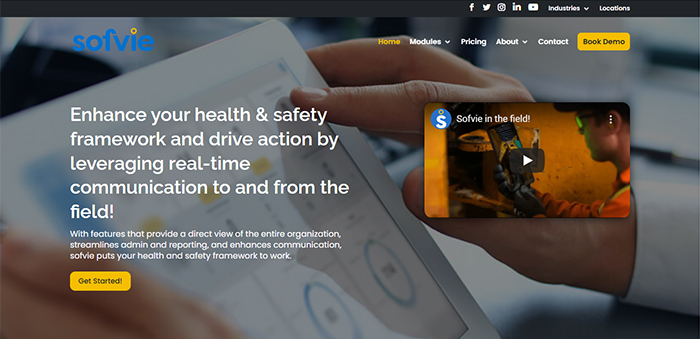 Starter – Starting at USD$149 /pm (up to 5 users)
Small Business – Starting at USD$28 /mo per User (6-99 users)
SME – Starting at USD$22 /mo per user (100-999 users)
Enterprise – Contact for pricing
Safety, Audit, Incident
Demo on request
Cloud, SaaS, Web-based
Specialising in the Mining, Construction, Manufacturing and Oil & Gas industries, Canadian based firm Sofvie, invites you to discover the next level in EHS Management with its collaborative intelligence platform. It's easy to adopt, intuitive to use, and promotes sustainable change by giving workers the environment and information they need and deserve to work safely.
In addition to a Web/desktop version, there's also a mobile app delivering a user-friendly data gathering and communication tool accessible to front-line workers through their mobile device. Offering online and offline features, Sofvie serves as a reliable management tool to use in any work environment.
At the same time, the platform gives management the tools they need to promote a safe culture and achieve compliance (and beyond) with ease offering customisation, optimised dashboards, data storage, records management, live field insights and reporting capabilities.
Sofvie addresses these top 5 EHS Management opportunities: 1. Reducing systemic silos and increasing collaboration. 2. Centralising information management and reducing slow paper processes. 3. Giving everyone a voice in planning and execution. 4. Enhancing the change adverse culture. 5. Proactively creating action and engagement.
A free trial is not offered but a demonstration can be booked on the website.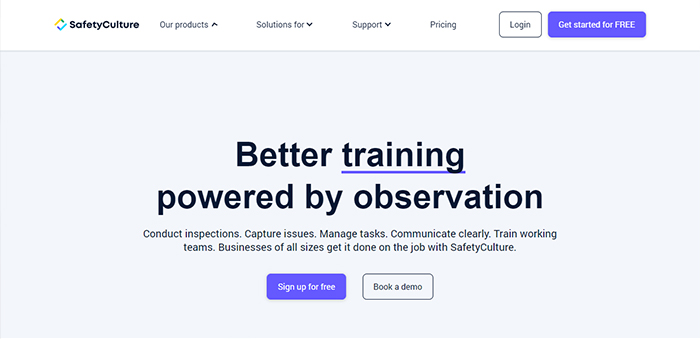 Free – USD$0 /mo (up to 10 users)
Premium – USD$24 /mo (per user)
Enterprise – Contact for pricing
20% discount for annual billing
Safety, Audit, Incident
Free version, free 30 day trial of Premium & Enterprise, Demo on request
Cloud, SaaS, Web-based
SafetyCulture's flagship offering, iAuditor is an inspection, issue capture and corrective action platform for teams that is used over 50,000 times a day in over 85 countries. It simplifies the auditing process by making it easy for anyone to effectively manage safety and quality from a mobile device.
Frontline workers are empowered to report issues quickly to prevent an incident occurring. SafetyCulture provides solutions for the Safety, Quality, Operations and Training functions within the Construction, Hospitality, Safety, Manufacturing, Retail, Transport & Logistics and FM sectors.
With the system you can: 1. Setup checklist forms in minutes with a drag and drop builder. 2. Add logic to show or hide fields and help your team complete inspections faster. 3. Turn issues into actions on the spot. 4. Instantly generate and share custom reports. 5. View performance and trends in real time, with automatic syncing between mobile devices and desktops.
You can sign up for free tools and resources from the comprehensive 'Resources' section of the website where you'll even find a ROI calculator.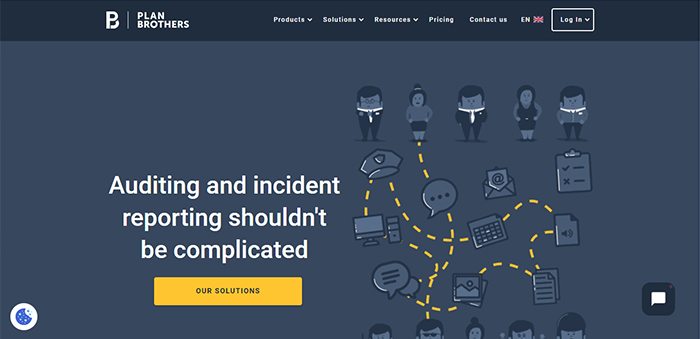 Inspector – €300 /mo (up to 10 users) then 100€ /5 extra users (€20 /extra user)
Team – €550 /mo (up 25 users) then €70 /5 extra users (€14 /extra user)
Operations – €900 /mo (50 users) then €40 /5 extra users, (€8 /extra user)
Enterprise – Contact for pricing
Safety, Audit, Incident
Free 30 day trial, Demo on request
Cloud, SaaS, Web-based
audits.io is a fully customisable cloud based tool with free upgrades that works on all devices – both on and offline. It delivers digitised audit and inspection checklists, reports and analytics in your pocket.
You can conduct audits and inspections on the go with your mobile or tablet and continue the work on a desktop later if you need. With a user interface available in 18 languages, it's easy to collaborate consistently across your global network. You can attach images and other files, assign corrective actions and notify responsible people, share automated PDF reports to stakeholders, and analyse bottlenecks and trends from real time statistics.
Complementing audits.io is incy.io – an incident capture and reporting platform helping its users to multiply reported observations to improve root cause analyses and corrective actions. Why not start digitising your audit and incident reporting processes today?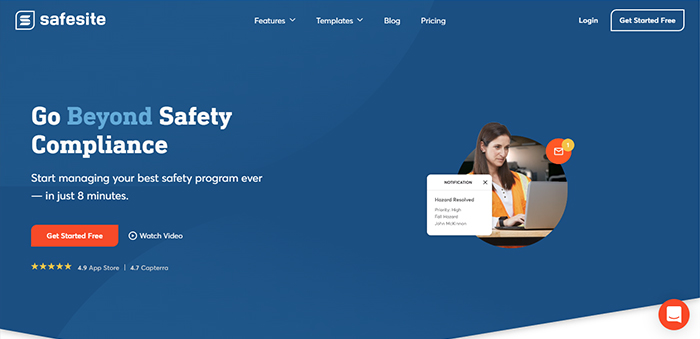 Free – USD$0 /mo
Premium – USD$20 /mo per member
Enterprise – Tailored pricing for more than 10 members
20% discount for annual billing
Safety, Audit, Incident
Free version, Demo on request
Cloud, SaaS, Web-based
Proven to reduce incidents by up to 57%, Safesite is a powerful, easy-to-use, cloud based safety management solution used by over 18,000 companies of all sizes and industries. Key features include auditing, performance monitoring, document management, analytics, and incident reporting.
The intuitive platform helps companies get results and easily measure and demonstrate safety performance. Supervisors can use the dashboard to manage the safety engagement of multiple teams in real-time and use predictive analytics to determine vulnerable instances through indicators.
Safesite even enables coordinators to schedule and track the progress of assigned tasks as well as send alerts via email, SMS or app for any pending tasks. Plus, inspectors can use predefined templates to complete safety observations and add images or markups. The platform can be accessed on any device and any safety program run digitally, saving hours each week. There's a free version available, although this restricts reporting to the last 30 days of data/activity.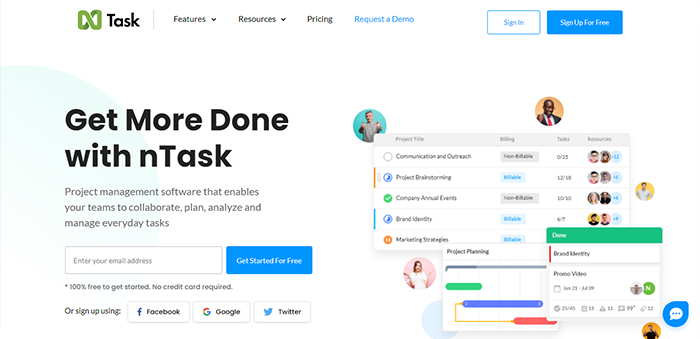 Risk Management module only available with Business and Enterprise subscriptions
Business – USD$12 /mo per user
Enterprise – Contact for pricing
33% discount for annual billing
Project Management inc. Risk
Free 14 day Business trial, Demo on request
Cloud, SaaS, Web-based
Get more done with nTask's project management software that enables teams to collaborate, plan, analyse and manage everyday tasks. With Business and Enterprise level subscriptions, nTask includes a risk management module helping its users to identify, evaluate, classify, categorise, mitigate and communicate upon project risks.
Key features include: 1. A simple to use risk register, easily customisable for your needs. 2. Customisable risk matrices. 3. Risk mitigation plans allowing you to create controls and measures, and then assign them to users and schedule reviews.
You can add and edit custom fields and nTask even enables you to map your existing risk registers to the system using custom drop-downs, checklists and matrices.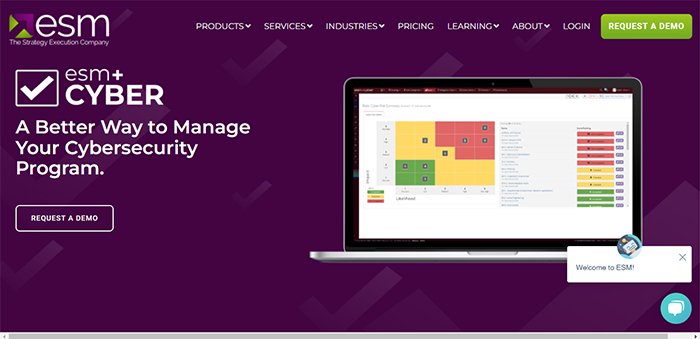 Cybersecurity Strategy – USD$880 /mo (Unlimited users)
Compliance – USD$880 /mo* (Unlimited users) – *price per Compliance framework
Operational Cybersecurity – USD$880 /mo (Unlimited users)
Cybersecurity
Demo on request
Cloud, SaaS, Web-based
Gain control of your Cybersecurity program with esm+CYBER. esm+Cyber helps its clients and users to continuously evolve their cybersecurity program, track and communicate changes, and improve their overall maturity and cybersecurity stance.
Key features include: 1. Cybersecurity Strategy: create a 1-page cyber strategy map, align business objectives, risk tolerance, access requirements and budget. 2. Cybersecurity Compliance: track any compliance framework, prepare for audits and demonstrate your compliance posture. 3. Cybersecurity Operations: prepare cyber plans, lay out operational calendars and track progress on cybersecurity projects. 4. Cybersecurity Risk: track risks in an interactive risk register, visualise risk scores in risk matrices and prioritise treatment.
The platform supports multiple compliance frameworks including NIST CSF, NIST Privacy, NIST 800-171, CMMC, ISO 27001 or you can even create or include your own custom framework. A wide range of implementation services, supported by a comprehensive workshop and training offering are available to accelerate your strategy journey and help you reach your full potential.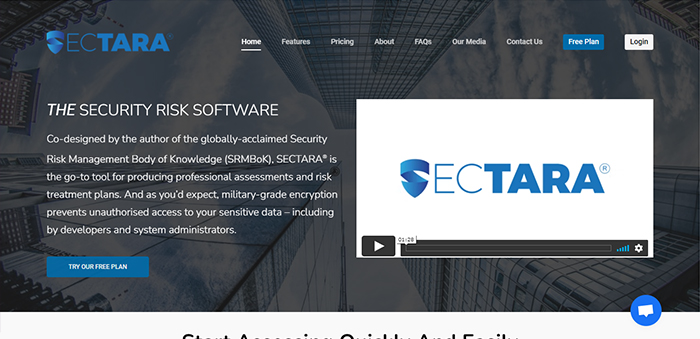 Free Plan – AUD$ 0 /mo (2 users / 2 concurrent assessments / 2 business units/organisations)
Solo Practitioner 'Bronze' – AUD$ 100 /mo (2 users / 10 concurrent assessments / 50 business units/organisations)
Small Business 'Silver' -AUD$ 1,000 /mo (5 users / 50 concurrent assessments / 250 business units/organisations)
Medium Business /Government 'Gold' – AUD$ 2000 /mo (10 users / 100 conc. assessments / 500 business units)
Large Business /Government 'Platinum' – Contact for pricing
Annual pricing is available upon request on all paid subscription plans
Security Risk
Free version, Demo on request
Cloud, SaaS, Web-based
Co-designed by the author of the globally-acclaimed Security Risk Management Body of Knowledge (SRMBoK), SECTARA® is the go-to tool for producing professional assessments and risk treatment plans. Military-grade encryption prevents unauthorised access to your sensitive data – including by developers and system administrators.
SECTARA® enables practitioners to create and complete security risk assessments quickly, simply and with methodological rigour. The website features a helpful section of user cases by job function and role, so you can quickly determine how the system can be best applied in your organisation. There's even a free plan (with a limit on the number of users, concurrent assessments and business units/organisations).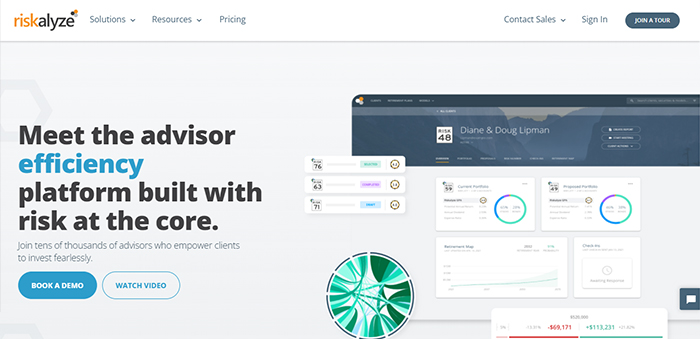 Riskalyze Select – $250 /mo per registered staff member
Riskalyze Elite – $350 /mo per registered staff member
Riskalyze Enterprise – $450 /mo per registered staff member
Investment Risk
Demo on request
Cloud, SaaS, Web-based
When financial advisors can quantify alignment between risk tolerance, risk capacity, and portfolio risk, they can empower anyone to invest fearlessly. Built upon a Nobel Prize-winning framework, the Risk Number® has become a proven way for tens of thousands of advisors to win new business, retain clients by setting better expectations, and document their fiduciary care.
Tap into sophisticated analytics at the security, account, and portfolio level to craft the perfect investment strategies for clients. Riskalyze monitors client accounts so you can focus on making great decisions when something needs your attention. Quickly agree on how to approach clients using Riskalyze's home office tools and consultative approach.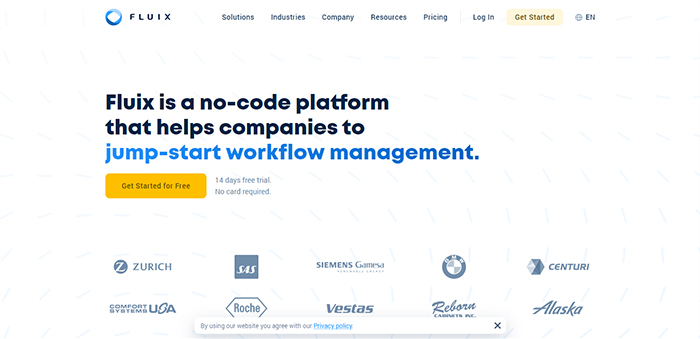 Starter – €175 /mo (€17.5 per user /minimum 10 users)
Core – €265 /mo (€26.5 per user/minimum 10 users)
Advanced – Contact for pricing
Safety, Audit & Compliance
Free 14 day trial
Cloud, SaaS, Web-based
Fluix is a no-code platform that helps companies automate routine tasks, jump-start workflow management, digitise document processes, gather reliable data, and save labour hours. It solves the pain-points of office and field teams who want to deliver faster and gather secure, reliable data, while keeping safety and compliance as top priorities.
Customers benefit from fast deployment, increased productivity, and a first class support team. The website Home page has a useful industry user case section where you can read about how other companies in your sector are using and benefiting from the platform. Boasting a customer retention rate of more than 96% over 5 years, Fluix could be the Safety, Audit and Compliance solution you're looking for, particularly if you're in the Renewable Energy, Construction & Engineering, Aviation & Airlines, Remodelling & Renovation, HVAC or Pest Control sectors.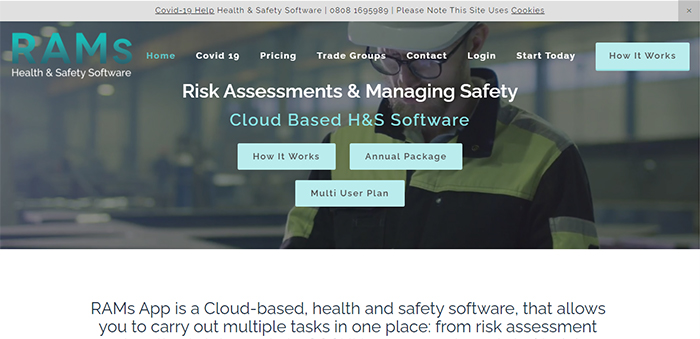 Starter – £20 /mo (1 RAMs document & 3 COSHH assessments /mo)
Business – £25 /mo (3 RAMs documents & 9 COSHH assessments /mo)
Unlimited – Unlimited £35 /mo (Unlimited RAMs documents & COSHH assessments /mo)
Multi User – Contact for pricing
Annual 12 months for price of 10
Safety, Risk Assessment, Compliance
Cloud, SaaS, Web-based
RAMs App is cloud-based, health and safety software, that allows users to carry out multiple tasks in one place: from risk assessment and method statements to COSHH assessments and staff training. Developed by industry leading health and safety experts, the goal for the app is simple: to streamline safety documentation and creation to help people to stay safe and compliant.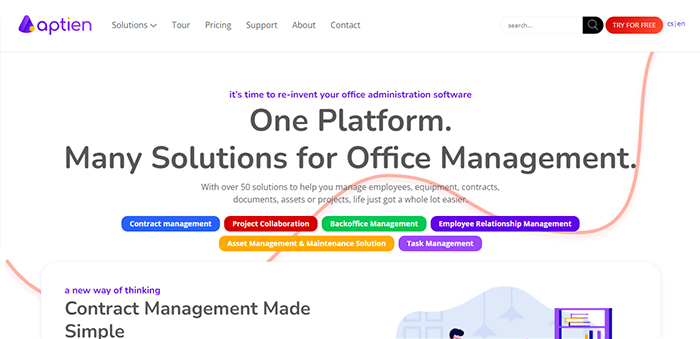 Free – USD $0 /mo (1 user & 2 Organisers / 3 seats & 100MB storage / 50 records)
Team – From $18 /mo (10 users & 15 organisers / 3 seats & 2GB storage / 500 records)
Company – From USD$33 /mo (300 users & 30 organisers / 3 Seats & 10GB storage / 5000 records)
Enterprise – From USD$180 /mo (10000 users & 100 organisers / 3 Seats & 100GB storage / 100000 records)
Office Management inc. GRC, Risk
Free version, Free 30 day trial, Demo on request
Cloud, SaaS, Web-based
Within this comprehensive office administration software platform you'll find a simple and easy to use GRC platform. Aptien's GRC management solution App is a comprehensive suite designed to fully coordinate governance, risk and compliance activities, including the reporting of critical information for all levels in any organisation.
Key features include: 1. Central policy & risk repository. 2. Risk register software and matrices 3. Compliance notifications. 4. Customisable policies, standards, risks and countermeasures.